TU Dublin Conservatoire in association with the ITMA, and the Princess Grace Irish Library are honoured to host the Irish-American Music Cultures Symposium on June 8th, 2023 at the TU Dublin Conservatoire.
Inspired by the Princess Grace Irish-American Song Sheet Collection, this symposium seeks to explore the dynamic interaction of Irish-American music making. It takes an expansive view of transatlantic music making, with a focus on song and instrumental music. The symposium is convened by Dr Helen Lawlor (TU Dublin Conservatoire). It is funded by an IRC New Foundations Award and supported by the ITMA, the SMI and TU Dublin.
The keynote address 'Irish Traditional Music in America and the Legacy of Mick Moloney' will be delivered by Don Meade & Dan Neely. 
The symposium will also feature two concerts: 
Fintan Vallely, Maighread & Tríona Ní Dhomnaill; Dubh Linn (Lunch time concert)

Una Hunt and Heather Sammon (evening concert).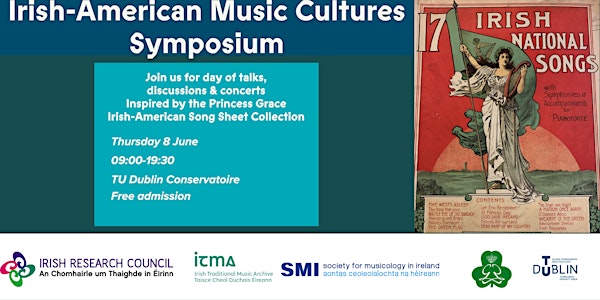 Irish-American Music Cultures Symposium
Timetable:
9.00-9.30
Registration
9.30-10.00
Scott Spencer (University of Southern California): Collections, Archives and Digital Humanities: Making Irish-American Heritage Accessible
10.00-10.30
Colin Harte (City University of New York): Teaching the Tunes: Understanding the Role of Irish Traditional Music in Higher Education in North America
10.45-11.30
Welcome SMI and PGIL: Helen Lawlor (TU Dublin) & Liam O'Connor (ITMA), Paula Farquharson, (PGIL) John O'Flynn (SMI) and Paul McNulty (TU Dublin)
11.30-12.00 Tea & Coffee
Session 1: 12.00-1.30 Session 1a
Axel Klein (Independent Scholar): Ireland on Broadway
Maria McHale (TU Dublin Conservatoire): 'Two famous operas': Irish opera and America
Liam O'Connor (Irish Traditional Music Archive): TBC
LUNCH
2.15-3.00
Concert: Fintan Vallely, Tríona Ní Domhnaill, Maighread Ní Domhnaill, Dubh Linn
3.00-4.00
Keynote Address | Don Meade & Dan Neely: Irish Traditional Music in America and the Legacy of Mick Moloney
4.00-4.30 Tea & Coffee
Session 2: 4.30-6.00 Session 2a:
Fintan Vallely (Independent Scholar): Interpreting the Princess Grace Song-Sheet Collection
Helen Lawlor (TU Dublin Conservatoire): Harp Imagery and Symbolism in the Princess Grace Song-Sheet Collection
Aileen Dillane (University of Limerick): Irish American Musical Imaginaries
Closing comments
6.30-7.15
Concert: Una Hunt & Heather Sammon: The Irish American
7.15- Reception